Julio Rodríguez felt confused, disrespected by Hector Neris incident; Neris issues apology denying slur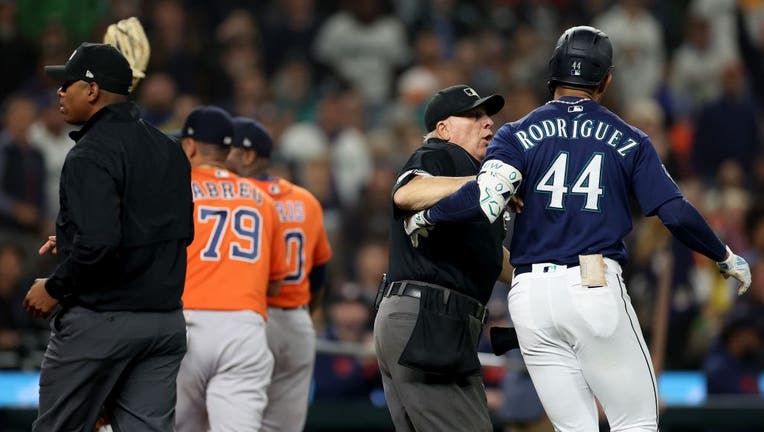 article
SEATTLE - Seattle Mariners outfielder Julio Rodríguez said Thursday that he felt disrespected by the actions of Houston Astros relief pitcher Hector Neris in an incident that led to benches clearing in the sixth inning of a vitally important game between the two teams on Wednesday night.
"I just feel like it just kind of went a little bit overboard," Rodríguez said. "I get the part where you can celebrate and you can be excited and all that. But to just kind of like come down and kind of get in my face on that I just feel like that's something that I'm not going to take. Not just from him, somebody that I kind of thought would be my friend, but not just from him but from anybody. That's something that I'm just not going to take. And yeah, I just feel I didn't appreciate the way that he handled that."
Neris struck out Rodríguez to end the sixth inning as the Astros held a 4-3 lead over the Mariners. Upon recording the strikeouts, Neris spun around let out a yell of celebration and began walking down Rodríguez as he tried to return to the bench. Astros first baseman José Abreu tried to usher Neris toward the dugout as home plate umpire Larry Vanover tried to head off Rodríguez
Rodríguez took offense to Neris actions and started to face him as the benches and bullpens emptied.
Mariners third baseman Eugenio Suárez was in the on-deck circle at the time of the incident and confirmed to reporters after the game that he heard Neris use a Spanish homophobic slur in Rodríguez's direction.
"From the beginning I thought it was a joke because before today they've got a really good relationship," Suárez said. "And then he started talking bad words in Spanish. He tried doing something that's not good for people who speak Spanish and know the statement. I was in the on-deck circle and heard that, and it pissed me off.
"I was mad and let him know 'why you do that? Why you do that to us? You want to enjoy your strikeout, enjoy your strikeout and go to your dugout. Don't do that.' To chase Julio and do all that bulls--- he did is for me, I don't take that. That made me so mad that's why I said what I say to him and to them."
Rodríguez did not comment on what was said between the two players as the incident snowballed on Wednesday night, but he expressed his confusion over Neris' actions.
"I was honestly so confused," he said. "I even watched the video and you can clearly tell that I was not expecting that."
Rodríguez and Neris have been friends for the last several years. They're both from the Dominican Republic and share the same agency. They also played together as teammates for the Dominican Republic on this year's World Baseball Classic team.
However, that friendship appears to rocky at best after Wednesday's incident.
Rodríguez said he's not going to communicate with Neris following the incident, though he said Neris had reached out to him.
"It's not something that I'm looking forward to or something that maybe will happen. I'm just going to leave it at that." he said.
Neris denied used of a slur in a statement released to Houston reporters on Thursday afternoon, but he did apologize to Rodríguez for his actions. The Astros have the day off before their closing three-game series in Phoenix against the Arizona Diamondbacks.
"First, I want to apologize to Julio, his family, and the Mariners organization," Neris said in a statement, via Chandler Rome of The Athletic. "I have a tremendous amount of respect for Julio as a person and a player. He means so much to baseball and the communities in the United States and back home in the Dominican Republic. His is a great player and a better person and deserves to be recognized that way.
"Secondly, Julio has been a friend dating back to 2020, when we spent the pandemic working out together. We have had a friendly competition when one beats the other on the field, something this is customary in the Dominican Republic and especially among friends. My intent in going towards Julio was to get his attention as part of the friendly ongoing banter that we have had over the years.
"I recognize that last night I should not have gone towards him like I did. I did not mean to disrespect him, his family or the Mariners. I do understand how my actions could be interpreted that way.
"Last, there were reports that I used a homophobic slur, which are simply incorrect. That did not happen and any suggestion to the contrary is wrong. My mother raised me to love and respect people for who they are and that is how I live my life."
Major League Baseball is investigating the incident, according to Adam Jude of The Seattle Times. Additionally, the newspaper cited several sources close to Rodríguez that confirmed Suárez's account of the incident.
Rodríguez said the incident will actually lead him to reevaluate some of his decisions regarding the friendships he keeps across the game.
"Even though we've got friends, sometimes once we step on the field we've kind of got to forget about that," Rodríguez said. "It's kind of hard to learn it that way, but at some point sooner than later I was going to learn something like that so I'm glad it happened now and I can just kind of keep moving forward from here."
The incident itself is the latest in a long line of disagreements between the two AL West rivals.
Neris served a three-game suspension last season after an incident that began by throwing a ball behind Ty France. When Rodríguez followed that up with a home run, Neris then had a pitch sail over the head of Suárez. That incident led to both benches clearing in Houston with multiple ejections as well.
Neris was initially suspended four games before having the duration cut to three upon appeal.
Rodríguez said that speculation that home run and his excitement surrounding it had nothing to do with the incident in Wednesday night's game. He said they'd spoken and Neris never mentioned it to him.
"It was a tight situation in Houston and all that and I was celebrating, but I was celebrating myself and my team," Rodríguez said. "I never once looked at him. I never once tried to let him know 'hey, I hit a home run against you.' I'm more celebrating the situation and I feel like that is what I would like to see from somebody that I called my friend."