Seahawks RB Ken Walker III named NFC Offensive Player of the Week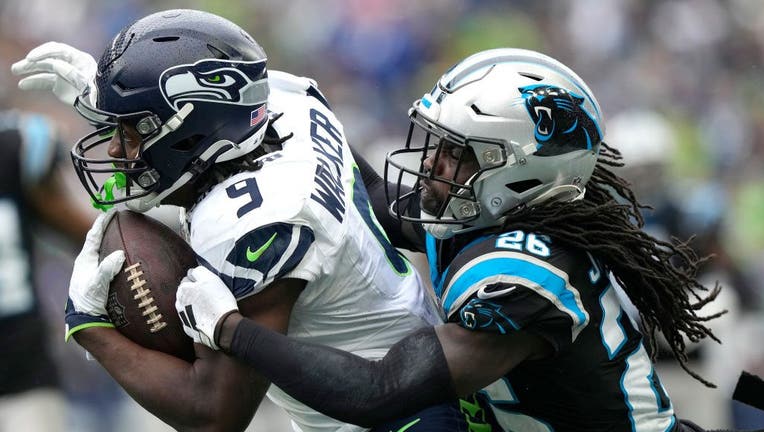 article
Seattle Seahawks running back Ken Walker III was named the NFC Offensive Player of the Week after rushing for 97 yards and two touchdowns in Sunday's 37-27 victory over the Carolina Panthers.
Walker led the team's rushing attack as the Seahawks finished with 146 yards overall in the victory. Walker also caught three passes for 59 yards, which was second on the team behind DK Metcalf's 112 yards.
Rookie Zach Charbonnet added 46 yards on nine carries in tandem with Walker.
"Thrilled about that, the commitment to it," head coach Pete Carroll said of the rushing attack on Sunday. "You could see our style from our two guys. Like I said, they're much different, uniquely different, but man, they've both got explosions in them… I'm really fired up about those two guys."
Carroll said he hoped to get more out of the rushing attack after the team's Week 2 win over the Detroit Lions. The group had been held in check through two weeks and Walker's performance provided the breakout effort the team was looking for.
"Ken is out there just juking guys and making guys miss left and right," quarterback Geno Smith said. "I'm having to go out there and make blocks for him. It's super fun just to have guys like that."
It's the first time Walker has been named as a player of the week and the first for a Seattle player this week. The Seahawks had five NFC Players of the Week in 2022 with Geno Smith earning offensive honors (Week 4), Uchenna Nwosu (Week 1), Riq Woolen (Week 6), and Quandre Diggs (Week 18) earning defensive honors, and Will Dissly getting a special teams player of the week award in Week 8.