Bumbershoot announces music lineup for its 50th anniversary
SEATTLE - Bumbershoot Arts and Music Festival announced its official music lineup for their 50th anniversary.
For the first time since the pandemic, Bumbershoot is back! 2023's festival takes place Labor Day Weekend, Sept. 2-3, and will feature much more than live music.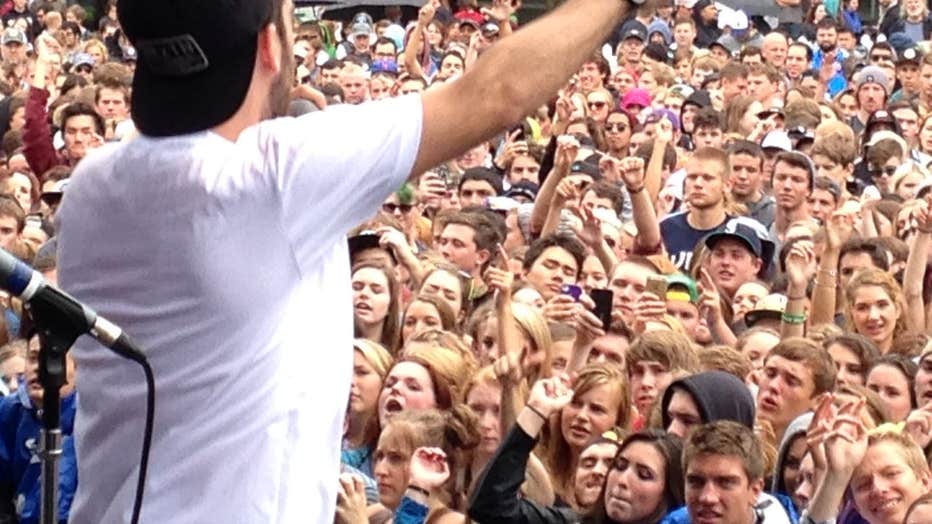 Bumbershoot 2014 (KCPQ photo)
2-day general admission tickets will cost $110, and single-day general admission tickets start at $65. To purchase tickets, click here.
Headliners
Sleater-Kinney
The Revivalists
Zhu
Jawbreaker
AFI
Brittany Howard
Fatboy Slim
Sunny Day Real Estate
Phantogram
Following performances
Band of Horses
Descendents
Matt and Kim
Bomba Estereo
Durand Jones
Uncle Waffles
A-Trak
Ride "Going Blank Again"
Valerie June
Benny the Butcher
Jacob Banks
Major League DJz
Domi and JD Beck
The Dip
Rebirth Brass Band
Additional artists
Temples
Puddles Pity Party
Destroy Boys
Dandy Warhols
Thunderpussy
Algernon Cadwallader
Hunx and His Punc
Sol
Anabel Englund
Screaming Females
Gustaf
Trinix
Reignwolf
Debby Friday
True Loves
Morgan and the Organ Donors
Sweet Water
Chong the Nomad
Modernlove.
Slift
Girl Trouble
The Black Tones
Dave B
King Youngblood
ChImurenga Renaissance
Massy Ferguson
Cassandra Lewis
Radioactivity
Wimps
Them
Simone BG
Breaks and Swells
Long Dark Moon
Pressha
Fouad Masoud
Spirit Award
Black Ends
Pink Boa
Beverly Crusher
Scarves
According to the event's website, there will be a lot more than just live music: 
Rollerskating
Nail art
Wrestling
Witches
Drag
Pole dancing
Sign spinners
Free-range artists
Out of sight performance art
Augmented reality
Contemporary art
Film
Vintage Clothing
Robots
Burleskaraoke
Large-scale sculpture
Modern dance
Remote-controlled sculpture
Photography
Digital arts
Culinary arts
Tattoo runway
Extreme pogo stick double dutch
Make-up artists
Cat circus