Demariyus Thomas: I'm looking forward to matchup with Sherman
By Gary Klein and Sam Farmer

Los Angeles Times

JERSEY CITY, N.J. — The Denver Broncos' Super Bowl media sessions have been conducted aboard the "Cornucopia Majesty," a moored yacht that Monday featured Coach John Fox holding court on the first deck and players fielding questions two decks above.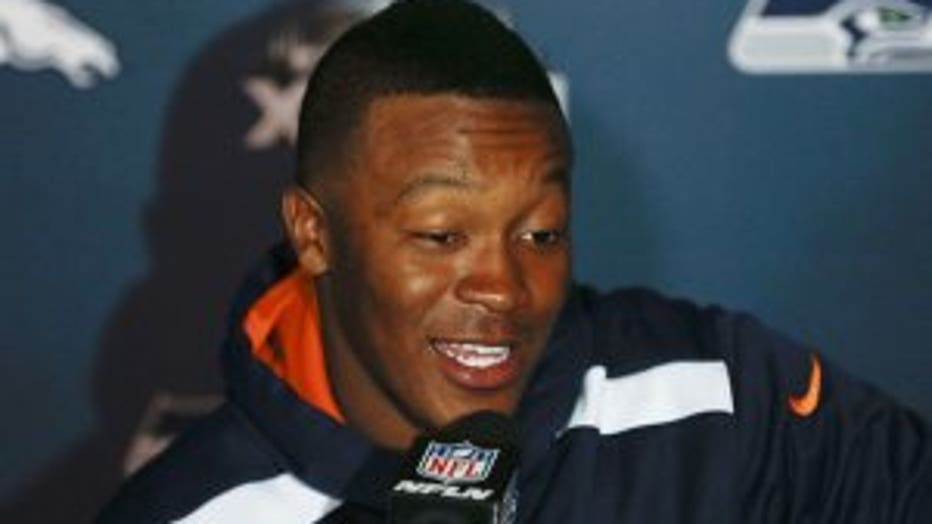 Denver Broncos wide receiver Demaryius Thomas says he is looking forward to the challenge of competing against friend as Seattle Seahawks cornerback Richard Sherman in Super Bowl XLVIII on Sunday. (Jeff Zelevansky / Getty Images / January 27, 2014)


Receiver Demaryius Thomas stayed on an even keel when asked about a matchup against the Seattle Seahawks' "Legion of Boom" secondary and cornerback Richard Sherman.

Thomas said that he met Sherman at a camp and that they "did some stuff in L.A. together."

"We are close," Thomas said. "I think we are close-enough friends."

Thomas was Peyton Manning's main target during the quarterback's record-setting regular season. The 6-foot-3, 229-pound Thomas had 92 receptions, 14 for touchdowns.

Sherman said Sunday that Thomas was among the top five receivers in the NFL and that it was going to be a "fun" matchup between intense competitors and friends.

"He takes his time and he doesn't try to do anything too fast," Thomas said of Sherman. "Those are the best corners, when they're patient."

Asked if there was motivation to shut up the talkative Sherman with performance, Thomas said, "I'm not going to say 'shut him up,' but I'm going to go out and try to make some plays so I don't have anybody coming up to me saying I got shut down by Sherman."

Booming achievement

At 6-3 and 232 pounds, Seahawks safety Kam Chancellor cuts an imposing figure.

Chancellor said he knows when he has gotten into a receiver's head.

"It's a certain look they give me and I just smile back," he said during a media session at the team hotel. "Their eyes become big."

Sherman has said that Chancellor provided the secondary's boom.

"Yeah, they give me the boom and give me the forceful title and I love it," Chancellor said.

So do teammates.

"Some of the linebackers in the NFL are supposed to be the most ferocious hitters," defensive end Michael Bennett said, "but I think Kam is by far the most ferocious hitter in the NFL."

Homecoming

Broncos running back Knowshon Moreno was caught on camera this season tearing up during the national anthem.

Moreno indicated that showing his emotions was a regular occurrence.

"I don't know how many games I've played in, but it's never any different," he said. "You all just probably caught that one moment, and it is what it is. I would never change."

The 5-11, 220-pound Moreno, a New Jersey native who had a tough upbringing, figures to be emotional Sunday when the Super Bowl is played at MetLife Stadium.

The former Georgia star, the 12th pick in the 2009 draft, rushed for a career-best 1,038 yards and 10 touchdowns. He also had 60 receptions, three for touchdowns.

Moreno said he had listened to other players relate their Super Bowl experiences and how they handled the excitement.

"They say you have to hold your emotions down, you're going to be fired up, but there is so much going on that sometimes you've got to calm down," Moreno said. "I think that will be my toughest battle, just being able to stay composed until the fires start burning down."

Percy Harvin is on track

Percy Harvin, the Seahawks' dynamic receiver and kick returner, sat out the NFC championship game after suffering a concussion against in the New Orleans Saints in a divisional playoff game Jan. 11.

But coach Pete Carroll sounded as if Harvin would play against the Broncos.

"He's in," Carroll said. "He had another great day and a great week last week. He's part of the game plan."

Receiver Golden Tate said Harvin's presence would "open it up" for the passing game and on special teams.

"I'm more excited to see him on kickoff return," Tate said.

From XFL to pinnacle

Broncos linebacker Paris Lenon is the only active NFL player who played in the XFL.

He also played on a Detroit Lions team that finished 0-16 in 2008 and a St. Louis Rams team that was 1-15 in 2009.

So does Lenon, 36, appreciate the opportunity to play in the Super Bowl?

"I think you have to appreciate every year you're in this league," he said, "and not to make light of this situation at all, but first of all, you appreciate the position that you are in being a professional athlete. This is an added bonus to be in the biggest game."

Roger Goodell gets support

NFL Commissioner Roger Goodell last week told USA Today that he would consider allowing players to use marijuana to treat concussions and head injuries if medical experts deemed it a legitimate solution.

Carroll supports Goodell.

"The fact that it's in the world of medicine is obviously something the commissioner realizes and him making the expression that we need to follow the information and the research absolutely I'm in support of," Carroll said.

"Regardless of what other stigmas may be involved, I think we have to do this because the world of medicine is trying to do the exact same thing and figure it out and they're coming to some conclusions."

Family matters

Terrance Knighton is from Hartford, Conn.

The Broncos defensive tackle was asked whether relatives stopped talking to him after the Broncos defeated the New England Patriots in the AFC championship game.

"The only thing they were saying was, 'Just don't hurt Brady,' " Knighton said. "That's all they kept saying to me. So that happened that we won and I'm in the Super Bowl. They were just worried about Tom Brady's longevity."