Bail set at $10M for man accused of randomly shooting into car, killing pregnant woman in Seattle
SEATTLE - The suspect accused of shooting and killing a pregnant woman in Seattle's Belltown neighborhood refused to appear in court on Wednesday, and newly released court documents indicate that the shooting may have been random. 
Officers were called to Fourth Ave and Lenora Street just after 11 a.m. on June 13 for reports of a shooting. When they arrived, they found two people had been shot while sitting in their Tesla at a light.
A 34-year-old woman, who was later identified as Eina Kwon and was 32 weeks pregnant, was shot four times, according to court documents. She was rushed to the hospital, where she was later pronounced dead. Her unborn child survived for a short time but also later died. 
The other victim was Kwon's husband, 37-year-old Evan Sung Kwon, who was also taken to the hospital but has since been discharged.
On June 16, King County prosecutors officially charged the suspect, 30-year-old Cordell Maurice Goosby.
Goosby has been charged with first-degree murder and first-degree attempted murder. He could also possibly be charged for the death of the unborn child, since she was delivered alive and died a short time after.
Bail has been set at $10 million.
"The requested bail amount appropriately reflects the extreme danger this defendant poses to the community if released from confinement. The defendant refused to appear at his first appearance on this matter and refused to appear for his bond hearing," charging documents said.
Prosecutors say he has no local criminal history but was wanted out of Indiana and has felony convictions in Illinois. 
On the day of the shooting, officers on scene were quickly able to locate the suspect based on descriptions from witnesses. When they approached Goosby, he raised his hands and said, "I did it, I did it," according to court documents.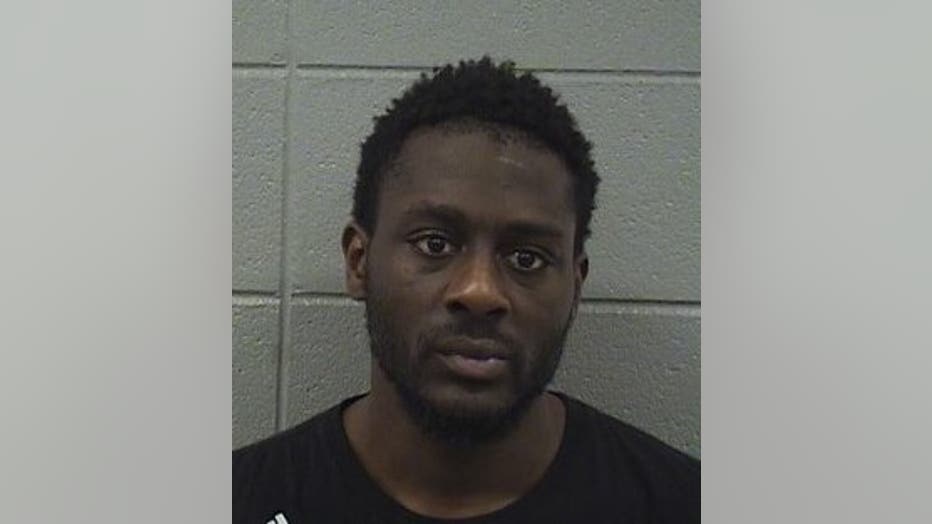 Cordell M. Goosby (Cook County Sheriff's Office)
When being interviewed by police, Goosby said he thought he saw a gun in the white Tesla so he responded by firing into the vehicle. 
However, surveillance video obtained from the Fourth and Blanchard Building showed "the victim's vehicle stopped at the intersection and the suspect quickly running up to the driver's side door of the victim vehicle with an arm extended. As he was running up to the vehicle, smoke could be seen coming from either the handgun he was firing or from the glass window of the vehicle being shattered," court documents detailed.
Several witnesses and 911 callers were able to identify Goosby as the one firing the shots, court documents said. 
According to court documents, Goosby told officers that he had a history of needing mental health care, and responding detectives noted that he appeared to be in some sort of crisis when he was arrested. 
Goosby is a convicted felon and is unable to possess a weapon, according to court documents. Court documents say the handgun used in the shooting of the couple was reported stolen out of Lakewood. 
Prosecutors are working to confirm his previous convictions from Illinois, which means he could be facing additional charges for illegally possessing a firearm. 
In a statement, Seattle Mayor Bruce Harrell's Office wrote: 
"This is a great tragedy that should never occur anywhere in our city -- let alone on our streets in the middle of the day. As we await more information about the incident, this heartbreaking shooting only reinforces our commitment to the urgent work necessary to ensure downtown and all of Seattle are safe for every neighbor -- that requires continuing our efforts to address gun violence and reduce dangerous guns in our communities, increasing police presence and behavioral health resources, and addressing the root causes of crime and disorder. Mayor Harrell shares his deepest condolences to the victims, their family, and every person in our community who feels the pain of this incredibly appalling and disturbing event."
Several residents and business owners paid their respects Wednesday for Eina Kwon, who owned Aburiya Bento House in Belltown.
A gofundme has been started to help the remaining family members.