Former Boeing pilot indicted for deceiving FAA about automated flight system attributed to 2 deadly crashes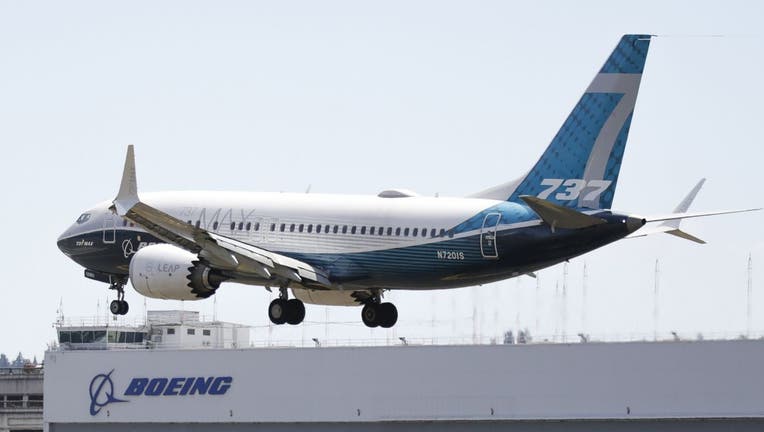 article
WASHINGTON - A federal grand jury has charged a former Boeing chief technical pilot with deceiving the Federal Aviation Administration's Aircraft Evaluation Group (FAA AEG) in connection with the agency's evaluation of Boeing's 737 MAX airplane, and scheming to defraud Boeing's U.S.‑based airline customers to obtain tens of millions of dollars for Boeing.
According to court documents, 49-year-old Mark Forkner allegedly provided the FAA AEG with "materially false, inaccurate, and incomplete information" about a new part of the flight controls for the Boeing 737 MAX called the Maneuvering Characteristics Augmentation System (MCAS). 
The Department of Justice says due to Forkner's alleged deception, a key document published by the FAA AEG lacked any reference to MCAS. In turn, airplane manuals and pilot-training materials for U.S.-based airlines lacked any reference to MCAS.
The MCAS design was determined to have been the cause for two deadly Boeing 737 MAX crashes. Lion Air Flight 610 crashed into the Java Sea near Jakarta 13 minutes after takeoff on Oct. 29, 2018, killing all 189 people on board, and Ethiopian Airlines Flight 302 crashed months later in March 2019, killing all 157 people on board. 
"Forkner allegedly abused his position of trust by intentionally withholding critical information about MCAS during the FAA evaluation and certification of the 737 MAX and from Boeing's U.S.‑based airline customers," said Assistant Attorney General Kenneth A. Polite Jr. of the Justice Department's Criminal Division. "In doing so, he deprived airlines and pilots from knowing crucial information about an important part of the airplane's flight controls. Regulators like the FAA serve a vital function to ensure the safety of the flying public. To anyone contemplating criminally impeding a regulator's function, this indictment makes clear that the Justice Department will pursue the facts and hold you accountable."    
"In an attempt to save Boeing money, Forkner allegedly withheld critical information from regulators," said Acting U.S. Attorney Chad E. Meacham for the Northern District of Texas. "His callous choice to mislead the FAA hampered the agency's ability to protect the flying public and left pilots in the lurch, lacking information about certain 737 MAX flight controls. The Department of Justice will not tolerate fraud – especially in industries where the stakes are so high."
Forkner is charged with two counts of fraud involving aircraft parts in interstate commerce and four counts of wire fraud.
If convicted, he faces a maximum penalty of 20 years in prison on each count of wire fraud and 10 years in prison on each count of fraud involving aircraft parts in interstate commerce.
Aftermath of crashes
After the second crash, all 737 MAX Jets were grounded worldwide. The planes remained grounded for nearly two years, only recently getting re-certified by the FAA to fly again.
In April of 2019, Boeing publicly acknowledge that MCAS played a role in both deadly crashes.
Families of the victims sued Boeing and in a separate lawsuit claimed collusion between Boeing and the FAA before the two crashes. That lawsuit claimed the FAA became too cozy with Boeing, leading to a lack of proper oversight in clearing the 737 MAX to fly.  In the suit, one of the victims said that if Boeing and the FAA had done their jobs properly, "these planes would have been grounded in November and today I would be enjoying summer with my family, I would be playing football with my son."
Boeing provided the money for a $50 million fund compensating families of the 346 people killed.
In December of 2019, then-Boeing CEO Dennis Muilenburg stepped down from his role.
Muilenburg testified to Congress that Boeing did, in fact, make mistakes on the 737 MAX jets. Muilenburg's testimony came as Boeing faced both a criminal probe by the U.S. Justice Department, the Senate Commerce Committee and the House Transportation Committee.
In January 2021, the Justice Department charged Boeing with "conspiracy to defraud the United States" over the investigations into two deadly 737 MAX Jet crashes. The company agreed to pay $2.5 billion in penalties and compensation to resolve the criminal charges
Where we stand now
Boeing has settled over 150 lawsuits filed by families of passengers killed in the two crashes
In November 2020, nearly 20 months after the second crash, the FAA cleared Boeing 737 MAX Jets to fly again.
Sales of new Boeing planes have plunged because of the MAX crisis and the coronavirus pandemic. Orders for more than 1,000 Max jets have been canceled or removed from Boeing's backlog this year. Each plane carries a sticker price between $99 million and $135 million, although airlines routinely pay far less than list price.
In March, Boeing Co. said it received more new orders than cancellations for commercial airplanes in February for the first time in 15 months.
While several airlines have cleared 737 MAX jets back into their fleets, some customers have the option to pick a different flight if they do not feel comfortable flying on a MAX.
Stay connected with FOX 13 News on all platforms:
DOWNLOAD: FOX 13 News and Weather Apps
WATCH: FOX 13 News Live
SUBSCRIBE: FOX 13 on YouTube
DAILY BRIEF: Sign Up For Our Newsletter
FOLLOW: Facebook | Twitter | Instagram