Heavy rain, powerful winds slam Washington, toppling trees, power lines and leaving at least 3 dead


>> CHECK SCHOOL DELAYS & CLOSURES HERE <<

SEATTLE -- A rainstorm packing wind gusts up to 115 mph pummeled Washington Tuesday, knocking down trees and power lines that left hundreds of thousands of people without power and resulting in at least three deaths.  Rivers in the area then began overflowing their banks.




A man in his mid-20s  was killed near Sultan in Snohomish County when a tree toppled by high winds crashed onto the top of his car. Sultan Fire Chief Merlin Halvorson said the tree landed on the car's roof directly over the driver's seat, and the man was killed instantly.  A woman in her 50s was killed in Spokane when a falling tree crushed her, and another woman died after a tree fell on her car on Highway 904 about five miles east of Cheney, the Washington State Patrol said.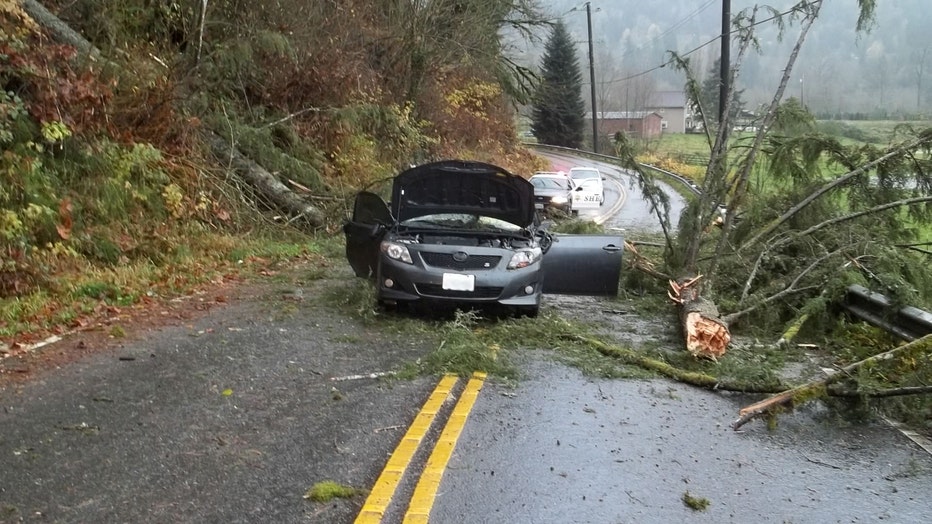 A man was killed between Sultan and Monroe after a tree feel on his car Tuesday


Another man in Sultan was rushed to the hospital after a power line had fallen on  his metal fence and he touched the fence, giving him a serious electrical shock. He was listed in serious condition at Harborview Medical Center. Another couple escaped injury or possibly death when a tree crashed down onto the top of their van in Marysville.

More than 220,000 were without power by the early evening just in the Puget Sound Energy areas. Snohomish County PUD reported more than 111,000 were without power there. And to make matters worse for those without power, PSE tweeted their customers could be without power for "multiple days."




The downed trees and power lines created havoc throughout the area.  Sound Transit had to stop its trains at Auburn and transfer riders to buses because of downed tree debris and power lines.  Drivers were backed up on secondary roads throughout the area. Trees also fell on I-5 near Lynnwood and also near 196th Street. Washington State Ferries had to close its Edmonds-Kingston run because of high winds.

The Puyallup Police Department and the Snohomish County Sheriff's Office urged residents to stay in Tuesday night and not attempt to drive on roads because of the downed trees and power lines.

In Tacoma, the heavy rain and a power failure caused untreated sewage to overflow into the lower Puyallup River for at least 20 minutes. Officials said up to 50,000 gallons could have flowed into the Puyallup.

Rivers were either flooding or close to flooding throughout the Puget Sound area.

The city of Sultan was flooded, but the Skykomish River crested in Gold Bar late Tuesday night so that should curtail the flooding in Sultan.  Most streets and businesses in downtown Sultan have been evacuated, including the fire station. Search and rescue crews with boats were on standby, ready to help people in need.  Several people in Sultan said it hasn't been this bad since the flood of 2006.




An urban flood warning was issued for King County until 3 a.m. Wednesday.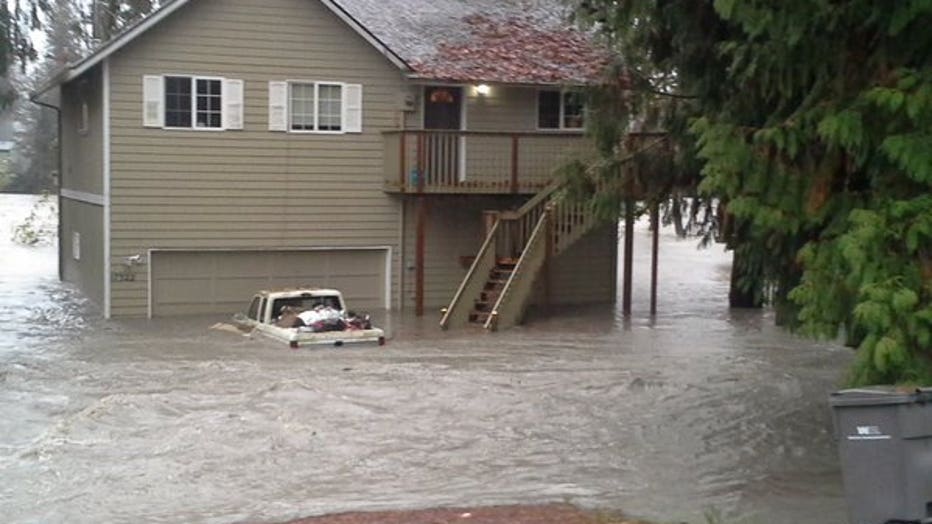 Flooding in Granite Falls


The Washington Emergency Management said the Carbon River at Fairfax was already flooding and affecting residential areas at Crocker and Carbon River Road.  The Dungeness River at Sequim was expected to flood roads and pasture lands Tuesday night, it said. The Chehalis River at Doty was going to flood Tuesday night and into Wednesday morning, affecting homes and and businesses. And a flood warning was issued for the Puyallup River until Wednesday morning, with potential flooding of low-lying areas of Orting.

Eastern Washington also was hit by strong winds. The Washington State Patrol closed Interstate 90 between Vantage and George after a dust storm blotted out any visibility. And flights were canceled for a while at Spokane International Airport.