Maui fires: How to help victims of devastating wildfire
The search of the wildfire wreckage on the Hawaiian island of Maui is revealing a wasteland of burned out homes and obliterated communities, as firefighters battle the stubborn fire that has already claimed 36 lives, making it the deadliest in the U.S. in recent years.
Fueled by a dry summer and strong winds from a passing hurricane, the fire started Tuesday and took the island by surprise, racing through parched growth and neighborhoods in the historic town of Lahaina, a tourist destination that dates to the 1700s.
Maui County said late Wednesday that at least 53 people have died, but that figure could rise as rescuers reach parts of the island Thursday that had been unreachable.
How to help victims of Maui wildfires:
FOX announced Friday it has joined forces with the American Red Cross to provide vital assistance and relief to the victims of the devastating Hawaii wildfires.
According to the media company, FOX's Red Cross site was activated to collect donations for those affected by the fires. 
"Help people affected by the Hawaii wildfires. Your donation enables the Red Cross to prepare for, respond to and help people recover from these disasters," FOX wrote on its site.
Officials said relief is needed immediately, and more will be required later as the islands recover from the impacts. You can make a donation here.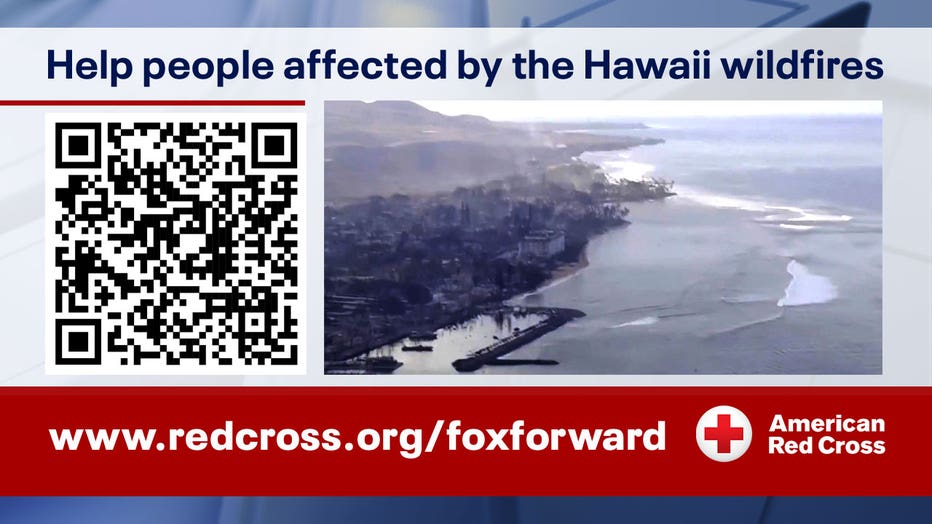 Other ways to help:
The Hawaiʻi Community Foundation started a Maui Strong Fund: donations can be made at www.hawaiicommunityfoundation.org/maui-strong.
Maui United Way is accepting donations to its Maui Fire and Disaster Relief fund at https://mauiunitedway.org/disasterrelief.
Maui Food Bank: https://mauifoodbank.org/html
Council for Native Hawaiian Advancement: https://www.memberplanet.com/campaign/cnhamembers/kakoomaui
Maui Humane Society: https://www.mauihumanesociety.org/
The Associated Press contributed to this report.