Police: Driver in recent slow-speed chase arrested again; this time at ferry dock


SEATTLE -- Police chased a man onto a ferry-boat at the Colman Dock tonight, just before a rush hour sailing. They were concerned he might be armed, but no weapons were found.

This is the third time the suspect has had a run-in with authorities in the last month. They say he has mental health issues, and he's not getting the help he needs.

Washington State troopers recognized Matthew Allen when he pulled up to the Colman Dock Monday night.  He was driving the same truck and trailer he was in last month when he led police on a slow speed chase, driving around in circles and demanding to see Governor Jay Inslee.



When troopers tried to stop Allen Monday night, he got out of his vehicle and took off on foot. Gabriel Young was standing nearby.

"All of a sudden this dude just broke out, started running to the ferry. The cops were chasing him. He ran onto the ferry, and they chased him onto the ferry."

Troopers subdued Allen with pepper spray, and then led him off the ferry. No one else was hurt, although the 6:45 pm ferry to Bremerton had to be cancelled.

"It was just pretty crazy," says Young.  "It was pretty cool to see police in action, they're doing their job."

Police officers with Seattle's Crisis Team are familiar with Allen. Last Monday, he was involved in a four-hour standoff with them in the U-District. Investigators say the suspect pepper sprayed an officer, and then barricaded himself inside a trailer with a baseball bat. He was arrested on assault charges, but was released on bail.

Troopers say he is facing additional charges of obstruction of justice and resisting arrest. Allen has also been put on a trespass list, so he can't come back to the Colman Dock for the next year.

Now that he's in custody, the ferries to and from Bremerton are back on schedule.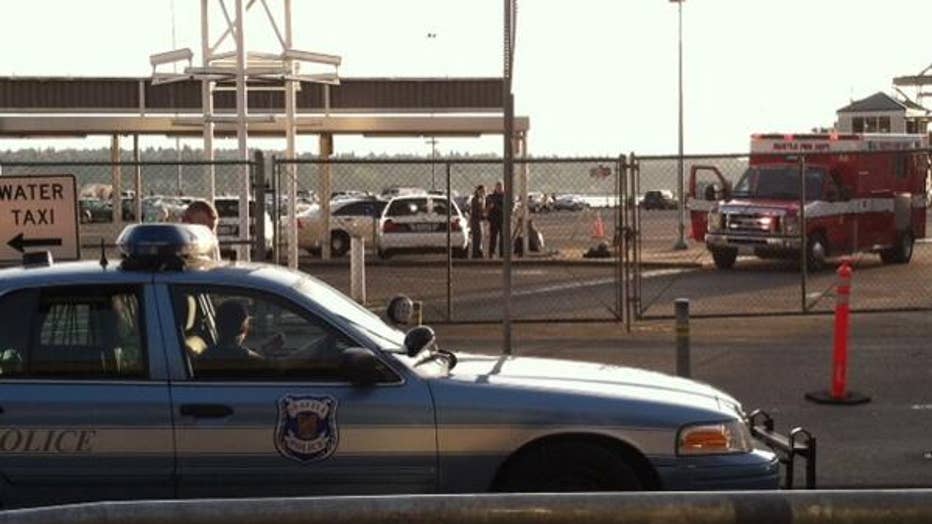 Officers take a mentally ill man into custody after he tries to run onto ferry. (Credit: KCPQ-TV)