Deputies searching for hit-and-run driver who crashed into school bus with kids aboard
MARYSVILLE, Wash. – Snohomish County sheriff's deputies on Thursday were asking for the public's help to locate a hit-and-run driver that crashed into a school bus that was stopped to let kids off after school.

The crash occurred at the intersection of 108th Street NE and 78th Avenue NE in Marysville at about  2:45 p.m.

The driver of the bus and the suspect driver sustained injuries, but no children were injured, the sheriff's office said in a news release.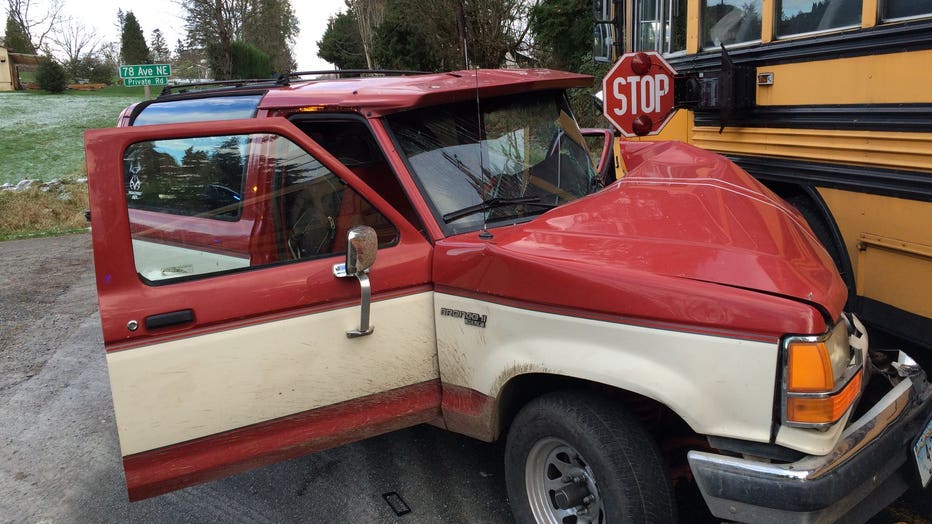 (Photo: Snohomish County Sheriff's Office)


The suspect fled the scene on foot with obvious facial injuries, the office said. The man abandoned the tan and red pickup truck he had been driving, which has Montana plates 430844B.  The suspect is described as a white male with a shaved head in his 30s wearing tan Carhart pants and jacket, skull rings on his fingers, a bullet necklace, and a diamond earring.

Anyone with information about this incident or whereabouts/identification of the suspect should call 911, the sheriff's office said.