Feds investigating string of train derailments in Grays Harbor County


MONTESANO, WASH. -- A federal investigation is now under way after three train derailments in the same area in Grays Harbor County.

They've all happened in the past two weeks between Aberdeen and Montesano. The last accident sent 11 train cars flying off the tracks and now neighbors are worried about what could happen next.

The Puget Sound & Pacific Railroad (PSAP) has been working day and night to clear the wreckage, and now agents with the Federal Railroad Administration are also investigating the crashes.

Some people living near the tracks worry the next derailment could be one carrying highly flammable crude oil.

"I lived out here all my life and I had to come out here and see this after being the third one in two weeks," said Mike Katainen, of Montesano.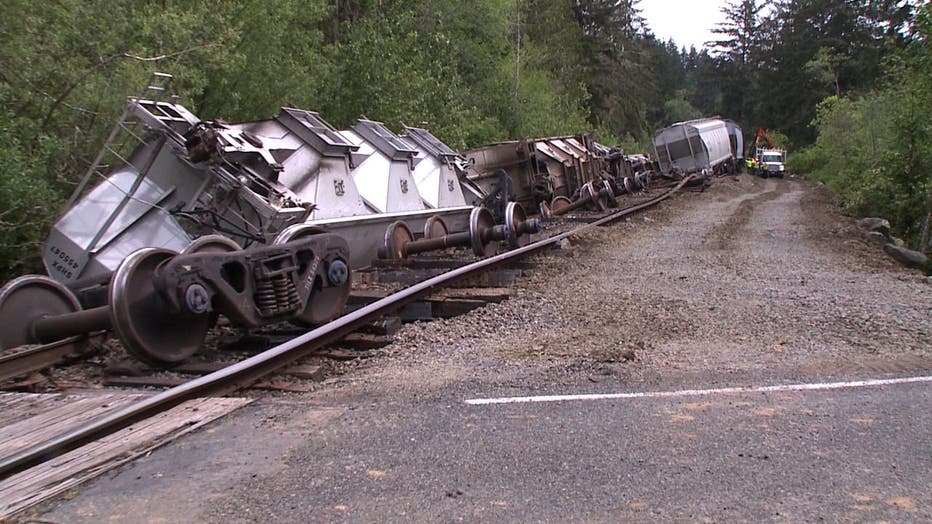 Work crews scrambled to clean up the mess. Eleven cars derailed and several toppled over, spilling grain all over the ground.

The crash buckled tracks and snapped wheels off of cars.

"These are very unusual occurrences," said PSAP President Joel Haka. "This was a very slow-speed derailment of under 10 miles per hour."

The derailment is the third for PSAP, from Aberdeen to Montesano, in just the past two weeks.

The railroad says failing railroad ties that were soaked by recent heavy rains caused the derailments in Aberdeen.

But the accidents prompted agents from the Federal Railroad Administration to investigate the company's railways.

"We will not move another train until this rail is safe," said Haka.

Some neighbors worry about sabotage, perhaps an attempt to derail plans to transport crude oil on trains.

"Social media is blowing up with that," said Katainen. "Everybody on social media is talking sabotage because of the whole oil thing."

But police don't think criminal activity led to the crashes, and railroad officials say the track would have to be substantially upgraded before any oil would move along these lines.

"Before oil trains would ever traverse this, we would upgrade the track," said Haka. "It would not be physically the same infrastructure. This would be a much different infrastructure to accommodate that kind of freight."

Still, Haka's assurances do not calm the nerves for neighbors who live near the tracks.

"Shipping crude oil by rail car is not safe," said neighbor Carol Seaman. "If the grain tips over, the crude oil can turn over; only they wouldn't be able to clean it up."

Railroad officials are scouring through the rest of their tracks to see if there are more problems with rain-soaked railroad ties.

Right now PSAP still doesn't have an exact cause for Thursday's derailment near Montesano.