Landslide blocks Cedar River causing flooding to nearby properties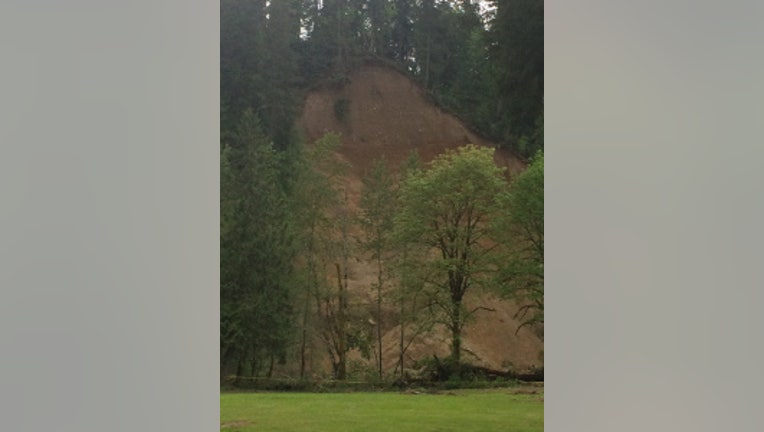 article
MAPLE VALLEY - A big mudslide causes minor flooding to nearby properties in Maple Valley.

It happened around 10 a.m. in the 21300 block of 221st Ave.

No one was injured but as of Saturday night the soil was still moving.

The landslide blocked a portion of the Cedar River causing the river to overflow flooding 6 nearby properties.

When the steep hill crashed down the noise was deafening.

"All of my neighbors were saying hey did you hear that it sounded like thunder, huge earthquake," Maple Valley resident Jeff McGough said.

The slide is about 300 feet high and 300 feet wide.

It ripped 40 foot trees from its roots and now a pile of debris is blocking a portion of the Cedar River.

"All of a sudden there was a 15 foot wall of water coming back this way," McGough said.

Ashley Hutchison says knee deep water swept through her mother's backyard.

"It was pretty deep my dog swam across it he was not touching anymore he was fully swimming," Hutchison said.

Cell phone video of the family's backyard showed the water starting to recede as the river cut a new path through the slide.

"We were scared we took out photo albums lifted those up, the computer was lifted," Hutchison said.

Hutchison says this rural community is tremendously lucky that their landslide was nothing like the one in Oso. Authorities say no one was forced to evacuate because the immediate threat is over but there is still movement as rocks continue to fall.

"It's a vertical or past vertical in some places so the potential for more slides is always there," Kent Fire Spokesperson Kyle Ohashi said.

Cedar River will be closed to all activity into next week as a state geologist surveys the stability of the land. The river will be shut down between Highway 18 at the Renton Maple Valley Road and Maxwell Road.