Powerful winds whip Washington, killing one, bringing down trees and leaving thousands without power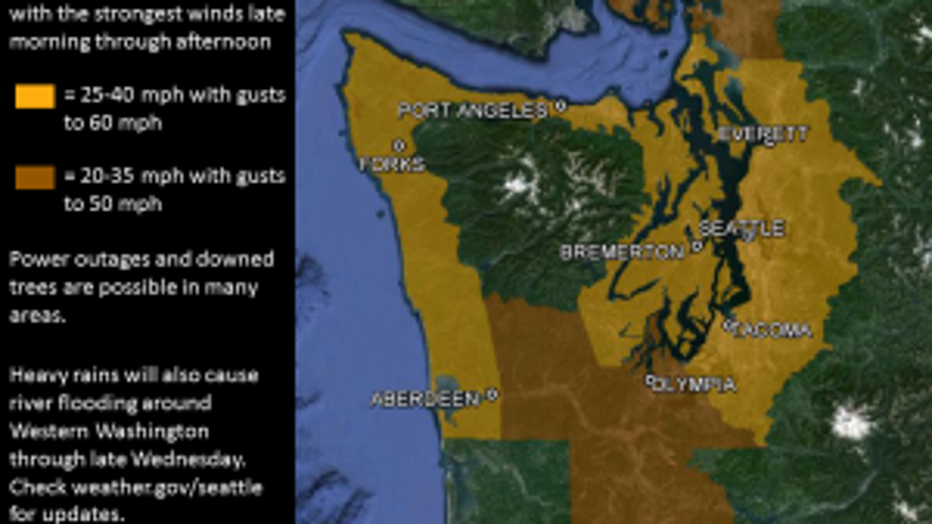 SEATTLE -- Another storm brought drenching rains and whipping winds to Western Washington, and prompting wind warnings and advisories.

One man was killed near Sultan after a tree fell on his car, and police said the weather played a factor when an SUV plowed into an in-home day care in Tacoma.

25-40 mph sustained winds pummeled the state, with gusts over 50 mph Tuesday in spots across Western Washington.

Downed trees and power outages were reported starting early Tuesday and things grew worse as the afternoon wore on.

An urban flood warning is in effect in King County until 3 a.m. Wednesday.

Power outages




Puget Sound Energy said that as of 3 p.m., there were more than 150,000 customers were without power, mainly in Renton, Kent, Port Orchard, Deming and Bremerton.

Orcas Power & Light reported a county-wide outage because of an "outage event on the mainland." There was no estimated time of restoration.

Power has been restored in West Seattle, according to Seattle City Light, but around 5,400 have lost power in scattered outages.




Tacoma was reporting about 1,000 without power.

Crews are working to restore power as quickly and safely as possible. Further outages are expected throughout the day.


Traffic impacts

WSDOT closed the Hood Canal Bridge around 10:45 a.m. due to high winds (SR 104 both directions) after gusts near 50 mph. The bridge reopened around 2 p.m.

The morning commute was slow-going and rain was expected to snarl the afternoon drive too.

A crash involving up to 11 cars blocked NB I-405 at NE 8th in Bellevue around 7a.m. WSP says there were some minor injuries involved.

Troopers cleared the scene a short time later, but the backup quickly grew to more than 10 miles.

Check our live traffic map here for updates.


Storm damage

The first report of damage came in even before the High Wind Warning.

Gusty winds and wet soil brought down a tree early Tuesday which landed on top of a Port Orchard home. Nobody was hurt.






Another downed tree in North Bend blocked part of the North Bend Parkway around 7 a.m.




Rising rivers prompted flood warnings for several local rivers including the Snoqualmie and Elwha.




Full forecast

Here is Q13 FOX Meteorologist M.J. McDermott's breakdown of what you need to know:

Rainy and windy all day, with flooding on rivers.

RAIN & FLOODING: Rain continues to pound Western Washington and it's so mild that there is no snow falling in the mountains. It's all coming down as rain, so we have FLOOD WATCHES posted for our rivers through tomorrow evening. Right now, five rivers are at flood stage: Snoqualmie (King County), Stillaguamish & Skykomish (Snohomish County), Chehalis (Grays Harbor County), and the Skokomish (Mason County). This list will grow throughout the day. DO NOT DRIVE THROUGH STANDING WATER! DON'T DROWN, TURN AROUND!

WIND: We have a HIGH WIND WARNING for the Central Sound, including Seattle, Tacoma, Bremerton, Everett. Gusts up to 60 mph are possible, with winds from the south. So all of our east-west bridges are affected. Possible tree limbs down with power outages.

The stormy weather continues throughout the entire day with conditions calming down this evening. Pack your patience on the roads.