Idaho murders: Veteran defense attorney lays out case Bryan Kohberger team could make, 'holes' in affidavit
MOSCOW, Idaho - Bryan Kohberger's defense will seek to dismantle many parts of the probable cause affidavit police used to obtain his arrest warrant in the stabbing deaths of four University of Idaho students, according to a high-profile defense attorney.
Idaho police laid out their case in a 19-page sworn statement made public just minutes before Kohberger's initial court appearance last week, with allegations including that they found his DNA at the scene, spotted his car and phone circling the victims' home, and uncovered a blood-tinged "Vans type" footprint in the suspected killer's path.
"In this case, what I've noticed is they've got evidence, and they've tried to put together the pieces of the puzzle," the California-based Lara Yeretsian told Fox News Digital. "But each and every one of the pieces of the puzzle seem to have issues and weaknesses and places where a defense attorney can poke holes."
Yeretsian, whose past clients include Scott Peterson and Michael Jackson, said reliance on cell-site data could be a flaw, if prosecutors do not have something more tangible linking the suspect to the crime scene.
"To me, that's never enough because you could be 10 miles away, 15 miles away, even sometimes depending on the radius it covers," she said.
RELATED: Social media video sparks rumors that Idaho students slaying suspect attended victims' memorial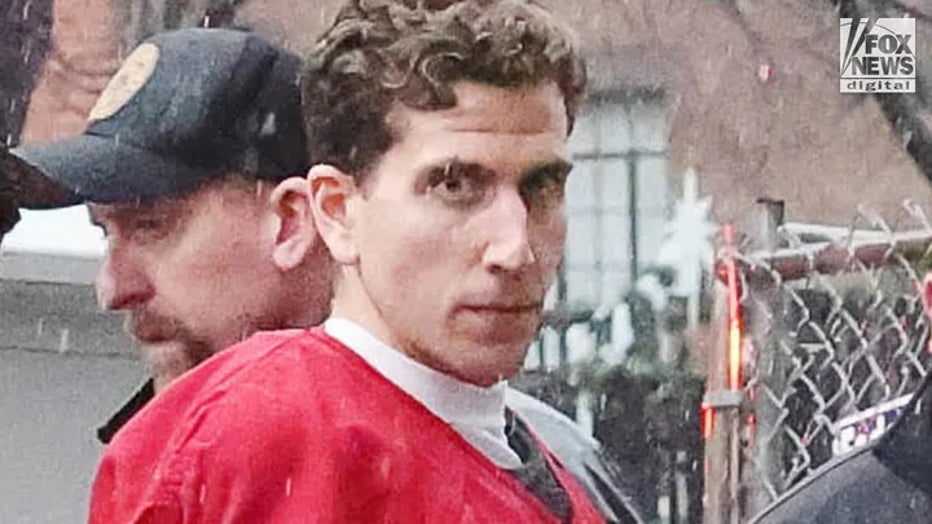 Bryan Christopher Kohberger is seen for the first time since his arrest Friday outside the Monroe County Courthouse in Stroudsburg, Pennsylvania. He is accused of the Moscow, Idaho, quadruple homicide. (Fox News Digital)
As Fox News Digital has reported, Kohberger's apartment is just 10 miles away from the six-bedroom rental house on King Road.
He was studying for a Ph.D. at Washington State University in Pullman, Washington, which is only about 7 miles away from the University of Idaho, where Maddie Mogen, 21, Kaylee Goncalves, 21, Xana Kernodle, 20 and Ethan Chapin, 20, were undergrads.
RELATED: Why didn't Idaho roommate call 911 after encountering masked madman?
Yeretsian pointed to page 15 of the affidavit which notes that Kohberger's phone pinged a cell tower in Moscow but then says that police do not believe he actually entered the city on that date.
"So you're telling me in an affidavit that that's not reliable?" she said. "How could a judge rely on this information?"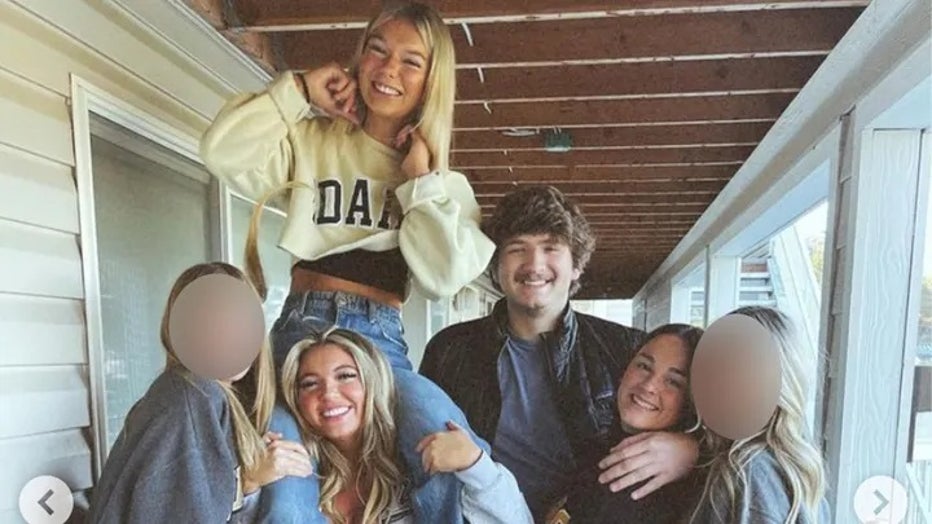 Ethan Chapin, 20, Xana Kernodle, 20, Madison Mogen, 21, and Kaylee Goncalves, 21, along with the women's two other roommates in Kaylee Goncalves' final Instagram post, shared the day before the slayings. (@kayleegoncalves/Instagram)
However, she added if prosecutors can prove Kohberger's phone registered on the victims' Wi-Fi router, that would place him much closer to the scene. 
Even so, she continued, due to the short distance between his home and theirs, proximity alone does not prove the allegations.
"What if he had a friend in the area he was going to visit?" she asked. "There may have been a very innocent reason for why he may have been in the area. I don't know. You don't know. For us, that's not enough."
RELATED: Footprint found inside Idaho crime scene could help cops build case
As for the "Vans type" footprint found inside the house, that is a common shoe, she noted.
Readers even flagged that bodycam video shows a woman answering the door wearing what look like Vans sneakers when police showed up at the King Road home six weeks before the murders in response to a noise complaint.
Pat Diaz, a private investigator and former Miami-Dade homicide detective, has also questioned the shoe reference.
"It could've been anybody coming out of that door," he told Fox News Digital, although the sneakers, like Kohberger's white Hyundai Elantra, may not be the most practical for the hilly college town.
RELATED: Roommate in 1992 Buffalo attack defends Idaho roommate for delayed call to police, tells media to 'back off'
In addition to two surviving housemates, police have also acknowledged that other students arrived at the home before police once the murders were discovered. It remains unclear whether police have recovered a matching shoe after searching Kohberger's apartment in Washington and his parents' house in Pennsylvania, where he was arrested with help from the FBI on Dec. 30.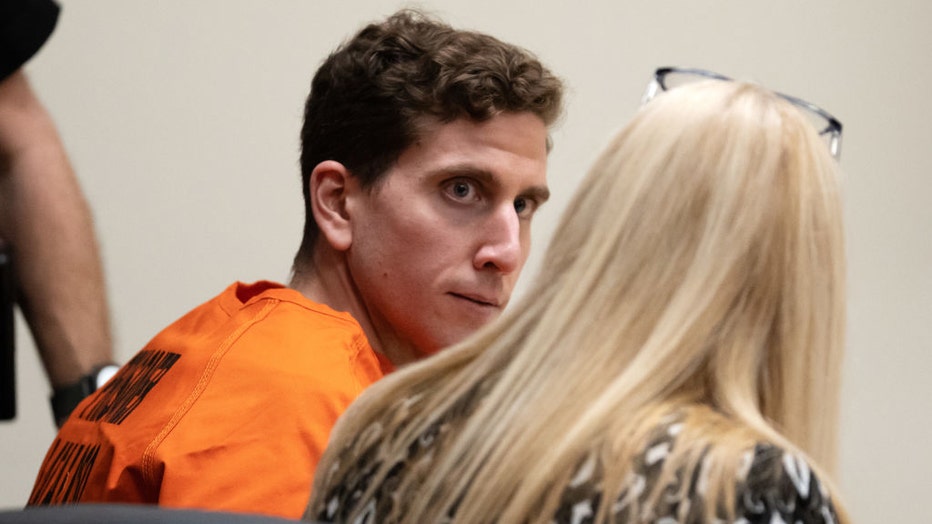 Bryan Kohberger looks toward his attorney, public defender Anne Taylor, right, during a hearing in Latah County District Court on January 5, 2023, in Moscow, Idaho. (Ted S. Warren - Pool/Getty Images)
Authorities have not publicly described the size of the shoe that made the print or acknowledged whether they have recovered the sneaker itself.
Judge Megan Marshall issued a gag order on the case last week, barring investigators and attorneys for both sides from making public comment on many aspects of the case.
READ THE FULL AFFIDAVIT BELOW. MOBILE USERS CLICK HERE.
However, the limited information made public in the probable cause affidavit, written by Moscow Cpl. Brett Payne, will face intense scrutiny from Anne Taylor, the Kootenai County public defender assigned by the court to represent Kohberger.
Taylor will likely chip away at those blocks and try to convince the court that it was either insufficient to establish probable cause or that smaller mistakes made the collection of some evidence improper, she said.
A surviving housemate, identified in the affidavit as "DM," told police she saw a masked man with "bushy eyebrows" walk by her on his way out the back door after hearing a series of alarming sounds.
RELATED: 'Internet sleuths' in Idaho murder case 'becoming a problem,' former FBI agent says
"It's circumstantial -- it's like building blocks," Yeretsian said of the prosecution's case. "No one really saw his face. 'Bushy eyebrows?' There's a lot of guys who have bushy eyebrows."
Diaz also took issue with the "bushy eyebrows" description and the line about the suspect wearing a mask in an earlier interview.
"What they had from the eyewitness, it could've been millions of guys that fit that profile or that description," Yeretsian said Tuesday. "It adds a little bit, he needs to fit within that description, but it doesn't really single him out."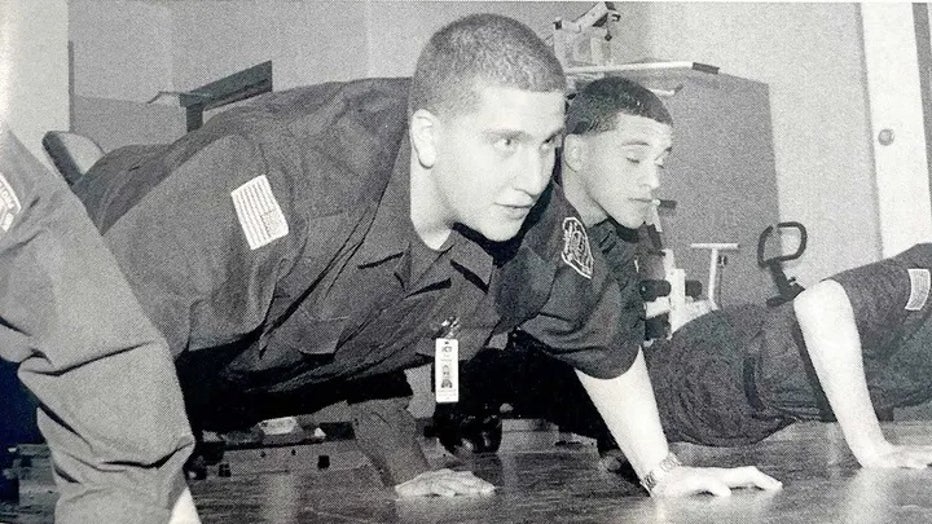 A yearbook photo of Bryan Kohberger in a high school law enforcement class doing a push up. (Stephanie Pagones/Fox News Digital)
DM told detectives that she thought she heard Goncalves "say something to the effect of 'there's someone here,'" according to the affidavit. She looked out her door, saw nothing, and then told police she thought she heard crying from Kernodle's room.
"DM then said she heard a male voice say something to the effect of 'it's ok, I'm going to help you,'" the affidavit continues.
She opened the door again and saw "a figure clad in black clothing and a mask that covered the person's mouth and nose walking towards her."
RELATED: Idaho Murders: Bryan Kohberger makes tasteless joke in Pennsylvania prison, report
She told investigators that she saw a male, athletic but not muscular and about 5 feet, 10 inches tall, Payne wrote in the affidavit.
"I'm thinking, OK, which one?" Yeretsian said. "I don't understand it."
The DNA found on a knife sheath that police recovered from the crime scene is not "narrow enough," she said, and police have not publicly revealed a potential motive.
"It's not one of those 100% things," she said. "I don't know how it got on there. I don't know if he ever visited these people. I don't know if he knows these people."
RELATED: Bryan Kohberger could face the death penalty in Idaho student murders
Yeretsian said Kohberger's defense team will likely look toward the possibility that there are other suspects who may have wanted to harm one or more of the victims.
"Have they talked to these people?" she asked. "Have they figured out what their alibi is? Have they looked at their cell site information? I'm sure that the defense is going to be asking for all of those."
On the other hand – police likely have a stockpile of additional evidence that has not been made public. Prosecutors will use it in court against Kohberger – who could face the death penalty if convicted just one of the four first-degree murder charges. He is also accused of felony burglary for allegedly entering the home with intent to kill.
Even before the order, Moscow police maintained for more than two months that they would not release any information that could threaten the integrity of their investigation.
"Law enforcement doesn't want to give the media and the public everything, because they don't want any one person to know all the facts and then claim to be a witness," Yeretsian said. "But we've got huge chunks of missing information here, and we all know this couldn't have been all of it."
RELATED: Idaho murder victim's father wants Bryan Kohberger to know he won't 'be on the planet that long'
More will come out in court.
Kohberger is due to return before Judge Marshall on Thursday morning.