Bail set at $450,000 for convicted felon who disabled electronic home monitor
TACOMA, Wash. -  A convicted felon who disabled his electronic home monitor after he bailed out of jail last August is back in custody.
Prosecutors say Marcel Wesley fought with a Lakewood Police officer while armed with a handgun on Monday, Nov. 13, lost his pants in the struggle and was finally arrested in his underwear.
When he appeared before Court Commissioner Barbara McInvaille, she ordered our camera not to show Wesley's face.  
The last time he went before her in August, she set his bail at 30K which he posted within days and was released.   Detectives in multiple law enforcement agencies say he has been on a crime spree ever since.
"The defendant now has 4 superior court cases with 12 felony charges, 8 of which are violent or involve firearms," said the prosecutor in asking for a high bail.
Wesley has seven felony convictions, including drive-by shooting, assault in the 2nd degree and unlawful possession of a firearm.
Commissioner McInvaille set his bail this time at $450,000.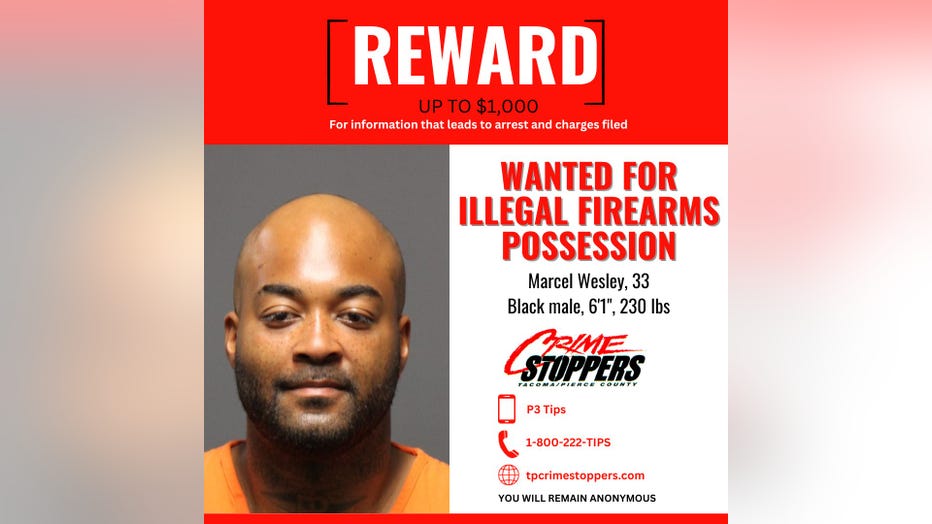 Crime Stoppers poster asking for public's help to find Marcel Wesley after he disabled his electronic home monitor 
ORIGINAL - A man captured on surveillance cameras allegedly ramming into several law enforcement agencies' vehicles is out on bail. 
Marcel Wesley, a 33-year-old convicted felon, was wanted for two active Pierce County felony warrants, according to documents. His latest convictions were for unlawful possession of a firearm and a drive-by shooting. 
Wesley is described as an armed career criminal by sheriff's deputies.
FOX 13 returned to the AM/PM gas station where the incident was reported around 3 p.m. on July 27. Abdel Hashad, a manager at the 82nd and Pacific Avenue S AM/PM location was present when he saw the situation escalate.
"His bad side-- he's aggressive," Hashad said about Wesley's temper. 
The 33-year-old was arrested after police say he rammed his Suburban into FBI, Department of Corrections and Tacoma Police Officers' vehicles multiple times. 
"He pulled forward, he saw the police coming from Pacific… he backed up then the undercover [officer] behind him, he hit that car hard," Hashad recalled.
Police say surveillance cameras captured the ordeal: Wesley backs up into one of the pumps and quickly accelerates when he sees a marked car with sirens on pulling up in front of him. He rams into them.
"He hit one of the customer cars and he drove forward two police cars and then tried to jump over the curb to make the run," Hashad said. 
Video allegedly shows Wesley throwing the vehicle into reverse and accelerating multiple times before hitting officials' vehicles, causing thousands of dollars in damages, as he tries to get away. 
"He couldn't [go]. There was two cars behind him, two cars in front of him breaking the wall, breaking the window," Hashad said.
A customer who was paying for gas was trapped inside. Their passenger was caught in the middle as multiple officers jump out guns drawn at Wesley. Statements made say the woman curled up into a small ball out of fear for her life. 
Several law enforcement officers also stated Wesley made eye contact with them as he rapidly accelerated towards them. Documents show a Tacoma Officer said, "I was in fear that myself or someone else could be seriously injured." 
After several minutes, officials are able to pin him in by then Wesley's surrounded and arrested. He was taken to the hospital where documents say he apologized to a Department of Corrections officer for hitting his vehicle. He told officers "he has mental health issues" and "he is a drug addict," saying he's been trying to get help but "nobody has helped him." 
Officers carried out a search warrant where they found a loaded pistol, 82 grams of fentanyl, 10 grams of cocaine, 14 grams of crack cocaine, and two stolen credit cards inside the SUV.
Arresting officers say his mother, Candace Wesley, showed up at the scene of the arrest. She is the founder of Tacoma Cease Fire, a group that works to cut down on violence in the community. FOX 13 reached out to her for comment but she declined.  
Wesley was charged with four counts of assault, malicious mischief and reckless endangerment. 
He posted his $30,000 bail on Tuesday.
"I don't get it. I don't understand it-- as a person who has an outstanding warrant, how do you go and the next day you're out again?" Hashad said.
Wesley has been released from jail, yet additional charges could be coming, according to Pierce County deputies.