Mudslide death toll rises to 14; number possibly missing at 176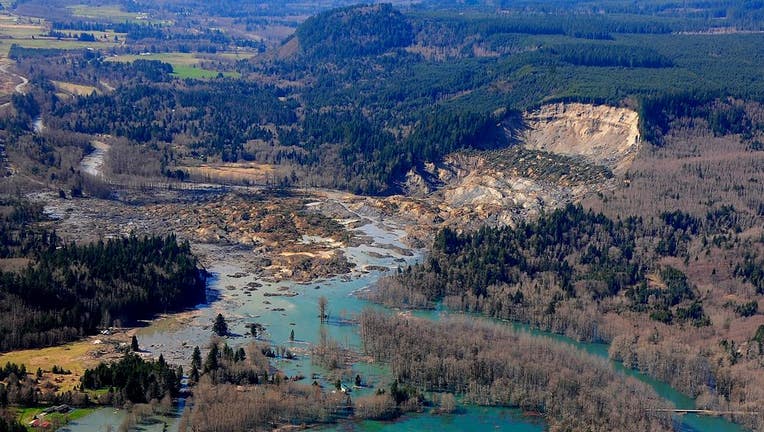 article


ARLINGTON, Wash. – Searchers at the mudslide site that wiped out dozens of homes in a rural community near here found an additional six bodies Monday, raising the number of dead to 14. In addition, at least 176 names were listed as possibly missing.

Officials cautioned that many of the names on that list could be duplicates and would likely fall as the names are checked out and cross-referenced.

But the news was not good on the third day of the search stemming from Saturday's devastating mudslide.

"I'm very disappointed to tell you that we didn't find any sign of any survivors, and we found no survivors today," Snohomish County Fire District 21 Chief Travis Hots said at a 6:30 p.m. Monday news conference.

The slide took out at least 35 homes Saturday near the town of Oso at State Route 530. In addition to the 35 homes, there were also 13 manufactured homes, including RVs, and one cabin that were hit by the slide. It was unclear how many of the structures were occupied.

John Pennington, director of the Snohomish County Department of Emergency Management, said, "I believe it's fair to say that most of us in these communities believe that we will not find any individuals alive. I am a man of faith and I believe in miracles" and will keep looking for survivors but said most realize "we are moving towards a recovery operation."

Pennington explained that the number of possibly missing people was information and data compiled from citizens sharing their concerns about loved ones. "I believe very strongly that (176) is not going to be number of fatalities" when the names are checked off the list, he said.



Monday's search included specially trained dogs, firefighters, law enforcement, aircraft and search-and-rescue teams. Heavy equipment from the Washington State Department of Transportation helped to move trees, boulders and earth from a devastating debris field that officials said is one mile long and one mile wide.

They will get federal help soon from National Guard and urban search-and-rescue teams as President Barack Obama on Monday issued an emergency declaration for the area, about 55 miles northeast of Seattle.

In Washington, D.C., the state's congressional delegation led a moment of silence Monday night in the House of Representatives for the mudslide victims.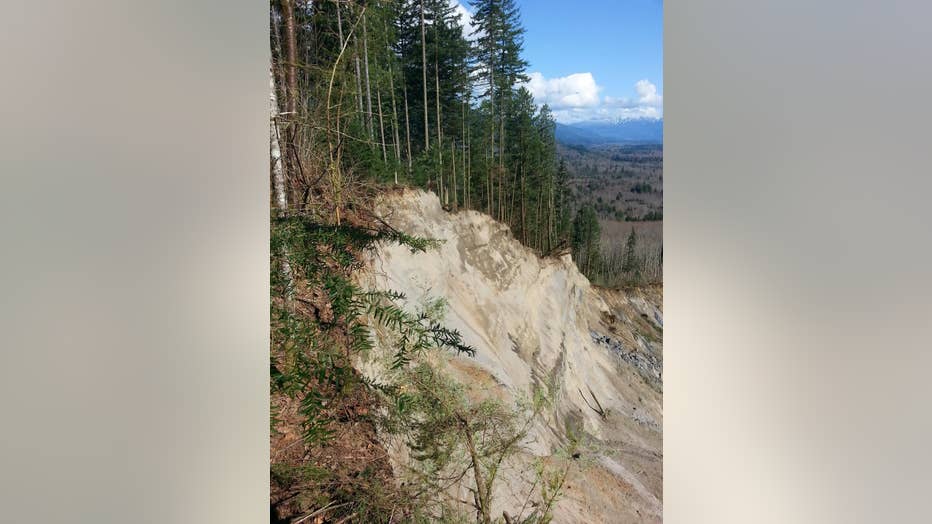 A view from near the top of the hill that slide down on Saturday near Oso, Wash. (Photo courtesy of hiker All Israel)


Pennington urged citizens to send photos of their loved ones who may be missing to the Snohomish County Emergency Management Center to DEMCallCenter@snoco.org, and include the person's first and last name, as well any distinguishing marks or features. They could also call the center at 425-388-5088.

At least seven homes in the area were still evacuated because of flooding risk as the Stillaguamish River east of the mudslide continued to slowly rise. Officials warned of flash flood potential as natural dams and debris broke through the river, but the risk was much lower than previous days.

Seattle's Harborview Medical Center said a 22-week-old boy who was injured in the slide remained in critical condition Monday afternoon. Three other men – ages 37, 58 and 81 -- were in serious condition, and a 25-year-old woman, the mother of the injured boy, was in satisfactory condition. At least three individuals were in satisfactory condition at a Snohomish County hospital.

The slide is believed to be one of the worst natural disasters in the state's history, especially since it came out of "nowhere," officials said.

The area is known to be slide-prone, and saw two large slides in 2006 and 2010.
This story will be updated as warranted.