Search, rescue and reunification efforts ramp up for four-legged slide victims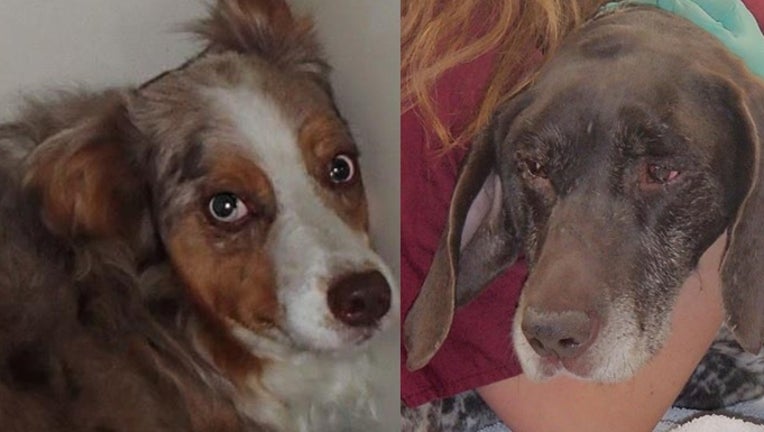 article


BURLINGTON, Wash -- As rescue crews search for missing people amidst the mudslide devastation another operation is underway focused on the pets and beloved animals in the slide's deadly path.

The Everett Animal Shelter announced Tuesday it had established a lost and found book at the shelter where staffers will be tracking lost and found animals.

"The information compiled in the books will be based off of animal owners who are looking for their pets and good Samaritans who have found a lost or abandoned dog or cat in the area of the slide," read a post on the shelter's Facebook page. "Being able to provide us with the animal's pictures will be very beneficial in our search to reunite them with their owners."

The Everett Shelter is also curating a list of community resources for animals involved or impacted by the disaster. Staffers are encouraging people to bring found pets to the shelter so owners can be reunited with them.

Local veterinarians are treating the wounded pets discovered alive in the slide zone as well.

Chuckanut Valley Veterinary Clinic said its team of doctors had treated a number of injured pets including an Australian Shepherd named Bonnie who was found by rescuers Saturday trapped on her owner's lap in one of the homes destroyed by the slide.

The clinic said one of Bonnie's owners is dead and the other is in critical condition at the hospital.

" has a fractured front leg and needs a surgical plate to repair the damage," wrote the clinic on its Facebook page. "She cuddled right onto the warm laps offered in the vet truck on the ride back to the clinic and is nothing but sweet."

The clinic is also treating a German Shorthaired Pointer who arrived Monday without a name tag or an owner. He has multiple injuries including fractures in his back leg.

Snohomish County established a group of volunteers to help those with livestock impacted by the mudslide.  Elizabeth Skufca is heading up that effort and volunteers are located throughout Camano Island, Stanwood, Everett, Arlington and other cities.

A Facebook group was established to help owners and animals reunite after the slide. It has more than 100 fans so far.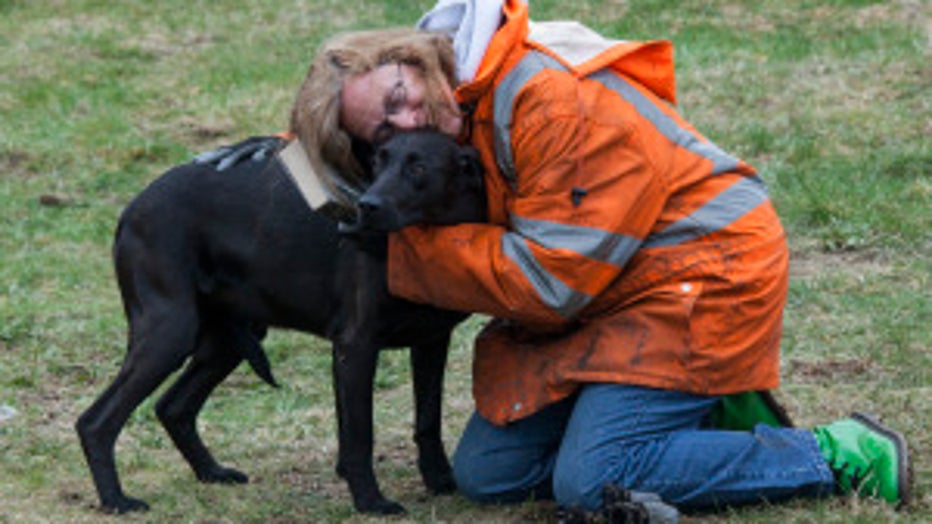 Elaine Young hugs her dog, Bo, days after a mudslide narrowly missed her home on March 25, 2014 in Oso (Photo by David Ryder/Getty Images)


At this time there is no official estimate of the number of animals that may be missing or lost in the slide zone.

If you wish to donate, you can contact the Everett Shelter here.

--

Resources:

Everett Shelter: 333 Smith Island Rd Everett, WA 98201,  Director, Shannon Johnson 425-257-6013 office and 425-508-8674 cell

Chuckanut Valley Veterinary Clinic: 896 N. Burlington Blvd. Burlington, WA 98233 or call (360)757-3722

Snohomish County livestock/pet effort: Elizabeth Skufca 360-631-2629 who can help you.