CAPTURED: Wanted Yakima County felon arrested after standoff in stranger's home; deputies say was using scanner to keep clear of capture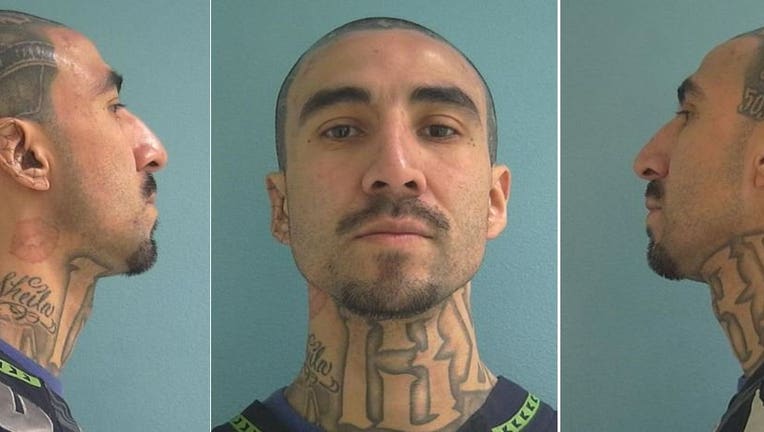 article


FUGITIVE CAPTURED July 21, 2017 --
The Yakima County Sheriff's Office says convicted felon, Jonathan Vargas, was arrested Friday in the Union Gap area -- after an almost hour-long standoff with The Pacific Northwest Violent Offender Task Force in Yakima and Yakima SWAT.

Vargas was wanted for Obstructing Law Enforcement, Attempting to Elude Law Enforcement and Unlawful Possession of a Firearm.

The sheriff's office says the task force and SWAT team first located Vargas driving in the Union Gap area. They say he began to drive erratically -- weaving in and out of traffic and driving on the shoulder of the roadway. The deputies and officers attempted to stop him, but say he failed to stop and continued to attempt to elude law enforcement for over 10 miles throughout the lower valley at speeds of over 100 mph. They say while attempting to elude law enforcement, he left the roadway and entered into an orchard and proceeded into a driveway in the 2000 Block of Progressive Rd. The vehicle crashed into trees bordering the residence, where Vargas ran from the vehicle and forced his way into the residence. The sheriff's office says it was empty at the time, because the homeowner -- who is a total stranger to Vargas -- had been outside.

The sheriff's office says the residence was surrounded and after almost an hour standoff -- Vargas came out of the home and surrendered.

Vargas was also booked into the Yakima County Jail on his warrants and new charges of Eluding Law Enforcement, Hit and Run, Driving While License Suspended and Residential Burglary.

The sheriff's office says evidence at the scene showed Vargas had been using a scanner to help him keep clear of capture.

Several agencies participated in the arrest:


------------------------------------------------------------------------

FUGITIVE WANTED IN YAKIMA COUNTY May 30, 2017 --
Yakima County detectives say a crime spree convicted felon, Jonathan Vargas, is connected to started when he took a man hostage on May 22nd. "Basically abducting at gunpoint and then beating and then robbing another male in the Toppenish area," describes Yakima County Det. Sgt. Mike Russell.

Hours later, detectives say sheriff's deputies spotted a suspected drive-by shooting vehicle in Wapato, with several suspects inside -- including Vargas behind the wheel.

Detectives say Vargas hit the gas and led deputies on a chase. At one point, detectives say one of the suspects bailed out of the vehicle -- armed with a gun -- and took off running. Detectives say a sheriff's deputy and Yakama Nation Tribal Police officer chased the suspect into a wrecking yard, where detectives say the suspect pointed his gun toward the officers and was shot by one of them.

Detectives say Vargas had continued to drive after the one suspect bailed out -- until crashing near the intersection of North Camas and Donald-Wapato Road, where several of the suspects were caught -- but not Vargas. "When Mr. Vargas fled from the crash scene, along his escape route investigators subsequently located a firearm that had been reported stolen by the Spokane Police Department. Also, in the vehicle when it was later searched, pursuant to a search warrant, another firearm was located," said Det. Sgt. Russell.

Vargas is considered 'armed and dangerous.'

He's wanted by Toppenish Police for:


He's wanted by The Yakima County Sheriff's Office for:


Vargas is 31 years old, 6'0", weighs 190 pounds and as you can see -- has his neck and head heavily covered in tattoos.

If you know where he's hiding, call Crime Stoppers at 1-800-222-TIPS, or use the P3 Tips App to submit your information to Crime Stoppers.

It's anonymous and you'll get a cash reward if your tip to Crime Stoppers leads to his arrest.